FIFA have opened disciplinary investigations to look into an incident in which Uruguay striker Luis Suarez was caught biting Italy defender Giorgio Chiellini during Uruguay's win over Italy on Tuesday.
According to FIFA, Suarez and the Uruguay FA have been invited to provide their position on the incident before 5pm local Brasilia time [9pm Nigerian time] after being charged with a breach of articles 48 and 57 of FIFA's disciplinary code.
Article 48 covers misconduct against an opponent during a match and Article 57 covers offensive behaviour and other behaviours contrary to fair play.
Suarez and the Juventus defender had tussled for a ball when the Uruguayan appeared to bite Chiellini's shoulder and go down afterwards as Chiellini's loose hand caught him in the face as a result.
According to Suarez after the match, "These situations happen on the field. I had contact with his shoulder, we were chest against shoulder and I got a knock to the eye. Nothing more."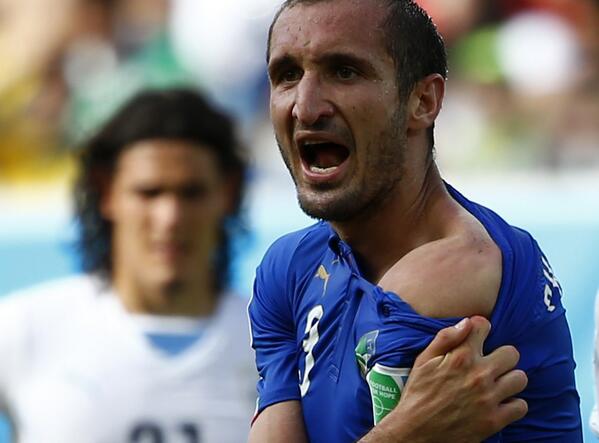 The furious Chiellini had drawn his shirt collar down his shoulder to show the match referee where Suarez had bitten him, only to see Suarez not receive a booking but set up Diego Godin's winning goal minutes later, a goal which knocked Italy out of the World Cup.
Suarez had received a 10-match ban from the English FA and missed Liverpool's last four games of the 2012/13 season and first six games of the 2013/14 season as a result of biting Chelsea defender Branislav Ivanovic in the arm.
In that incident, Suarez would escape a booking as well, only to then score a stoppage time equaliser for Liverpool in the match.
Suarez had also received lengthy match bans for biting a player while he was at Ajax, as well as for racially abusing Manchester United defender Patrice Evra.
Suarez could be set for a lengthy ban and fine from world football's governing body if found to have bitten Chiellini with intent and may even be sent out of Uruguay's World Cup squad as a result.