The 2014 FIFA World Cup in Brazil reached the halfway stage – if you count by number of matches played – in highly dramatic fashion in Portugal's 2-2 draw with the United States in a Group G encounter.
That result kept the Americans from booking a place in the last 16 just as it kept the Portuguese barely in contention for a last 16 place, a scenario not entirely in the script when the mundia kicked off on June 12.
Such has been the trend at the 2014 World Cup, already touted as the best World Cup in recent times courtesy of numerous shock results, generally entertaining matches and a few eye-catching goal celebrations.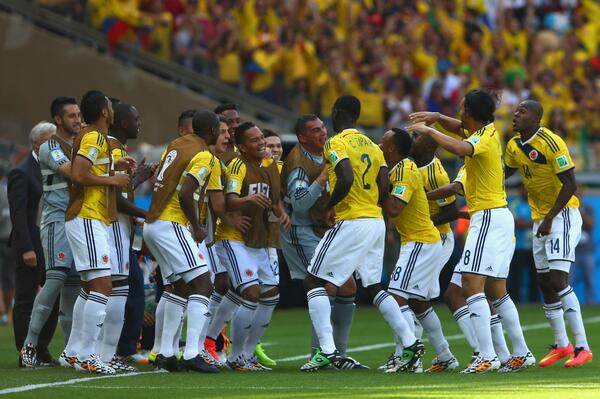 So far, Brazil 2014 can be evaluated as follows:
Flops
Questionable Decisions
Goal-line technology may now be available for referees at the World Cup but much remains left to be desired so far in the other calls made by the match officials.
In the opening match, the penalty won by Fred and converted by Neymar to give Brazil a 2-1 lead over Croatia was considered a wrong call while a good goal by Croatia minutes later was ruled out.
Edin Dzeko also had a good goal ruled out in Bosnia-Herzegovina's 1-0 loss to Nigeria, with replays showing Dzeko was onside when he received the ball. Bosnia were eliminated from their first ever World Cup appearance as a result of the loss.
Karim Benzema had a strike ruled out in the 5-2 crushing of Switzerland as the referee had blown the final whistle, a decision met with derision based on the fact that France should have been allowed to finish their attack before the whistle went.
Most of all, Mexico had to bear having two goals questionably ruled out for offside in their opening match against Cameroun though eventually winning the match by a lone goal helped quell the decisions for the Mexicans.
Group F
Among the eight groups at the World Cup, Group F comprising Argentina, Nigeria, Iran and Bosnia is the only group so far with an average below two goals per game, coming in with a stingy 1.25 goal per game average.
Dishonourable mention goes to Group H barely made a two-goal average after three matches then Algeria and Korea Republic played out a pulsating six-goal encounter won 4-2 by the Algerians and boosting the goal average in the group to three goals per game.
Alex Song and Pepe
Barcelona midfielder cum defender Alex Song received a straight red card in the first half of Cameroun's 4-0 loss to Croatia after barging with intent into Mario Mandzukic from behind with an elbow just before half-time.
Before then, Pepe received his marching orders when Portugal met Germany, after the Real Madrid defender headbutt Thomas Müller despite the German midfielder being down.
Pepe had just shrugged off Müller while in possession of the ball and the referee was going to let play continue till the Portuguese lost his head in the moment. Like Song's red, Pepe's came just before half-time and also ended with Portugal losing 4-0.
Spain and Cameroun
Following the first round exits of France and Italy in the World Cup editions that followed their respective World Cup wins in 1998 and 2006, the possibility of Spain finding it difficult to defend their 2010 title was there.
No one however expected Spain to exit the 2014 World Cup in the shambolic manner they have, conceding one more goal than they did in two European Championships and the last World Cup combined, after only two matches in Brazil.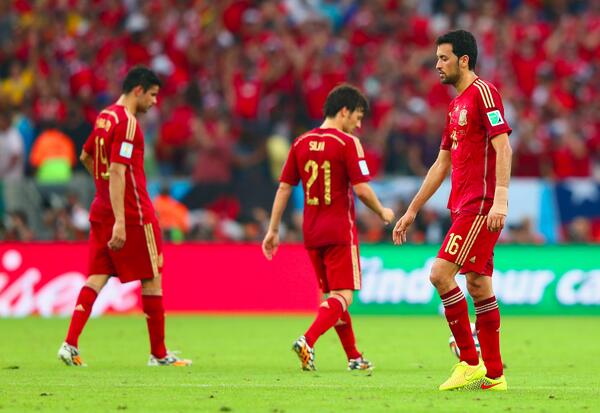 Cameroun make the flop list in small part due to their match results; which warrants it, but largely due to their tantrums over match bonuses and fighting during the match against Croatia.
Props
Frequency of Goals
The 2014 World Cup has already seen 27 more goals scored at this stage than at the same stage during the 2010 World Cup in South Africa, with 94 goals scored so far in Brazil for an average of 2.94 goals per game compared to 67 goals after 32 games in 2010 for an average of 2.09 goals per game.
Quality of Goals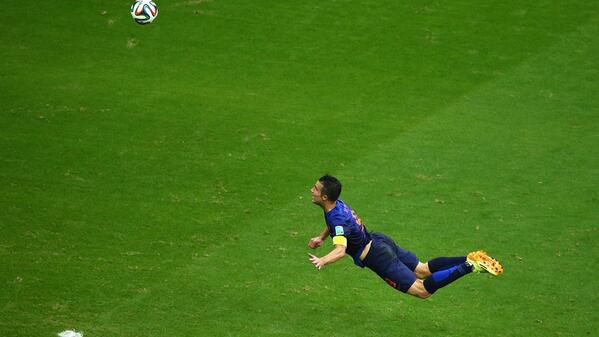 Robin van Persie of the Netherlands scored an early contender for goal of the tournament with his flying header over Iker Casillas just before half-time against Spain.
Van Persie's goal, which was the equaliser as the Dutch stormed to a rocking 5-1 demolition of the world champions, is more so of top quality courtesy of the well weighted cross from the halfway line by youngster Daley Blind.
Claudio Marchisio's opener for Italy in the 2-1 win over England caught the eye as well thanks to the build-up to the goal which involved an Andrea Pirlo dummy off the cornerkick that led to Marchisio's half volley.
Lionel Messi has also weighed in with a top draw goal, placing a 25-yard strike to the top corner to earn Argentina a stoppage time win over Iran.
Finally are Joel Campbell's volley which got Costa Rica on their way to a shock 3-1 win over Uruguay, and Tim Cahill's first-time volley off a long pass from midfield for Australia in the 3-2 loss to the Netherlands.
Entertaining Matches
The excitement of a football match is largely determined by the goals scored and after 32 matches, only four have failed to produce a goal though one of those – Brazil's match with Mexico – was far from being a bore-fest.
On the contrary, 22 of the remaining 28 games which produced goals ended with at least three goals scored in them, with 11 of the 22 high scoring matches producing at least four goals and ensuring a suitable average of one underwhelming match after three exciting matches.
Costa Rica
It has been a while a true minnow in world football ruffled feathers on the biggest stage in the manner Costa Rica has so far, following up their 3-1 win over 2010 semi-finalists Uruguay with another deserved win over 2006 champions Italy.
Those wins ensured, against all conceivable odds, that Costa Rica was the first country to progress to the last 16 from Group D; considered as one of the two groups of death in Brazil.
Conclusion
The concluding 32 matches of Brazil 2014 will see the remaining second round places taken up, followed by the real competition for the World Cup trophy.
Spain, Germany, Brazil and to an extent, Netherlands were favourites pre-tournament. Now, France have somewhat established themselves as true contenders as well after assured displays so far in Group E.
An eye should be kept on Colombia, Chile, Costa Rica (obviously) and Belgium to cause a stir in the knock-out stages. Perhaps one of them could make it all the way to the last four or the final even.