A goal by Angel Latifa in stoppage time helped Getafe snatch a 2-2 draw from their match at the Nou Camp against Barcelona to leave the second placed Catalan's title aspirations on a thread as a result.
Argentine maestro Lionel Messi had given Barça the lead midway through the first half but Latifa equalised for the midtable visitors five minutes from half time.
Alexis Sanchez restored Barcelona's lead after 67 minutes and the Chilean's goal seemed enough until Latifa struck again in stoppage time to end the match in a 2-2 draw.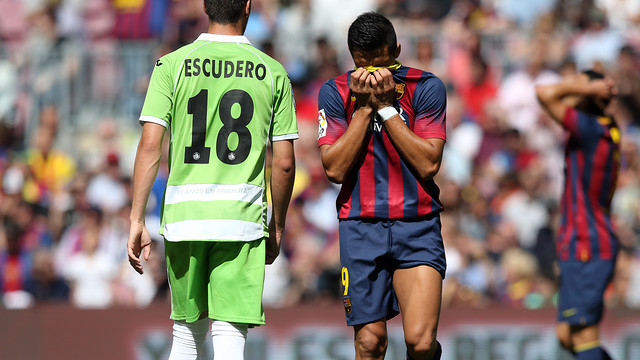 Barcelona now lies three points behind the Spanish league leaders Atletico Madrid, that will play at Levante on Sunday knowing a win there would edge them even closer to a first league title in 18 years.
Meanwhile in the Bundesliga, SV Hamburg will have to win a relegation playoff with a Bundesliga II side and avoid going down from the Bundesliga for the first time ever after losing 4-1 at home to league champions Bayern Munich to fall five points off safety.
Needing a win to avoid the end-of-season playoff, Hamburg fell behind to a Mario Götze goal after 31 minutes, with the German midfielder scoring two more in the second half to send Bayern on their way to a 28th league win from 33 matches.
In other results from the penultimate weekend of the Bundesliga season, Chinedu Obasi's third placed Schalke 04 all but sealed a place in next season UEFA Champions League with a 2-0 win at Freiburg while Bayer Leverkusen stayed three points behind Schalke after winning 2-0 as well at Eintracht Frankfurt.
Wolfsburg won 2-1 at Stuttgart to stay in fifth place, three points clear of Borussia Monchengladbach that beat FSV Mainz 3-1 to end Mainz's hopes of qualifying for next season's Europa League.
DFB Pokal finalists Borussia Dortmund won 3-2 at home to Hoffenheim, Werder Bremen won 2-0 against Hertha Berlin, Hannover 96 won 2-0 as well at already relegated FC Nürnberg while Eintracht Braunschweig, also already relegated, lost 1-0 at home to Augsburg.