Barcelona on Monday announced that Luis Enrique will take charge of the club next season following a disappointing campaign under Gerardo Martino, which saw the Catalan giants finish the 2013/14 season without a major title.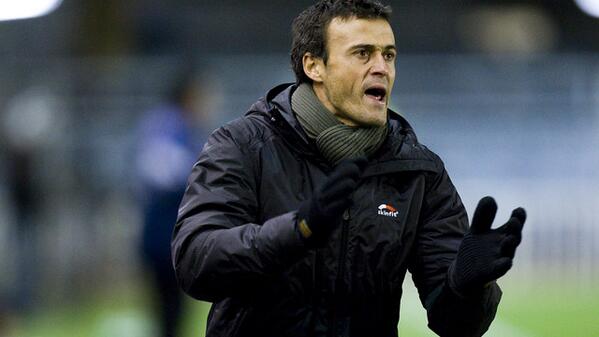 Enrique's appointment is reminiscent of the appointments of Pep Guardiola; who is now manager of German champions Bayern Munich, and Tito Vilanova; who recently died of throat cancer.
All three were brought up in the Barcelona way at La Masia, Barça's favourite youth academy, only to be given the reins. Where Enrique may hold some sort of advantage is in becoming Barcelona manager with some managerial experience outside Nou Camp.
Before him, Guardiola became manager of Barcelona's B-team in 2007 having played for the Barcelona first team between 1990 and 2001. And just a season after was named manager of the first team in 2008 to replace Dutchman Frank Rijkaard.
Upon taking over from the 2008/09 season, Guardiola finished his first season by making Barcelona become the first Spanish club to win the treble, while he also ended the calendar year 2009 with six major titles for the club.
Guardiola's four years at Barcelona ended with three league titles, two Champions League titles, two Spanish Cup titles and two FIFA World Club Cup titles among others in a period of unmatched success at the Nou Camp.
Guardiola's success, after only being made manager as the club could not get Michael Laudrup, showed the Barcelona hierarchy that not only could the club's academy produce world class talent – from Guardiola himself to most recent ones being Xavi, Andres Iniesta, Lionel Messi, Victor Valdes, Sergio Busquets, Cesc Fabregas, Pedro and Thiago Alcântara – but La Masia could be not just a harbinger of world class coaches, but coaches who knew the Barça way of life.
So when Tito Vilanova took over at the start of the 2012/13 season, their was confidence in sustained success with the appointment. Vilanova had no prior first team managerial experience upon taking the Nou Camp job, but he was crucially assistant manager to Guardiola from 2007 with Barcelona B till 2012 with the first team.
And despite battling with throat cancer more prominently from January 2013, going away from the dug-out for weeks, Barcelona still ended with a league title and only eight losses in competitive matches in Vilanova's only season in charge.
Unlike Guardiola and Vilanova however, Enrique comes into the job at the Nou Camp with some experience, managing Italian side AS Roma in the 2011/12 season before leading Celta Vigo to a ninth placed finish in the just concluded season, an improvement from the 16th place in the 2012/13 season.
But before managing Roma, Enrique had a successful three year spell as manager of Barcelona B from 2008, getting the youth team promoted to the second division after his first season, then leading the team to a third place finish the following season.
Odd as it may seem, his average performance at Roma and relatively successful campaign at Celta are surpassed by his previous, successful spells, first as player then as youth team manager.
His history as an attacking player may also bode well for his managerial time with an attack-minded team as Barcelona. Unlike Guardiola and (to a large extent) Vilanova however, Enrique will manage Barcelona in a period the La Liga is at its most competitive in years.