Luis Suarez has been handed a nine-match international suspension as well as a four-month ban from all football related activities by world football's governing body FIFA today.
The Uruguay striker has received the lengthy suspensions for biting defender Giorgio Chiellini in the shoulders during Uruguay's 1-0 win over Italy in a World Cup match on Tuesday.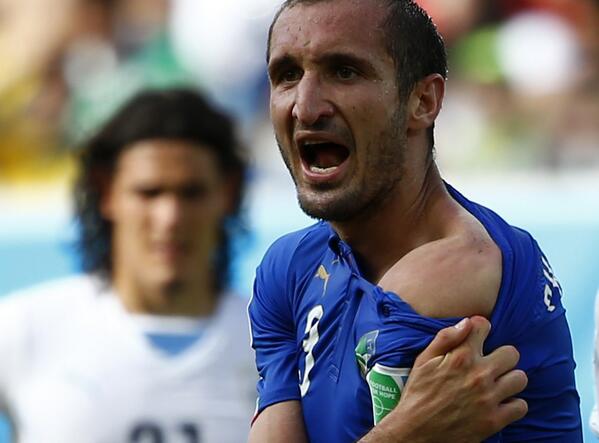 The nine-match suspension means Suarez will be unavailable for Uruguay's next World Cup match against Colombia in the last 16 and subsequent international matches at the World Cup and beyond.
Suarez will also be unavailable for English club Liverpool until the end of October as a result of the four-month ban from football activities, pending his appeal against the punishment.
In a statement by FIFA's Disciplinary Committee chairman, Claudio Sulser said "such behaviour cannot be tolerated on any football pitch, and in particular not at a FIFA World Cup when the eyes of millions of people are on the stars on the field."
Sulser stated further that "the Disciplinary Committee took into account all the factors of the case and the degree of Mr. Suárez's guilt in accordance with the relevant provisions of the Code. The decision comes into force as soon it is communicated."
The ban is the third time Suarez has been punished for biting an opposition player, receiving a 10-match ban from the English FA for biting Chelsea defender Branislav Ivanovic in a Premier League match in April 2013.