RedBull Racing's Daniel Ricciardo claimed an unlikely win at the Canadian Grand Prix tonight ahead of championship leader Nico Rosberg in an eventful race that lasted an hour and 39 minutes in Montreal.
Ricciardo, in his debut season, went past the chequered flag first for the first time in his Formula 1 career to dramatically end Mercedes' winning streak since the start of the season.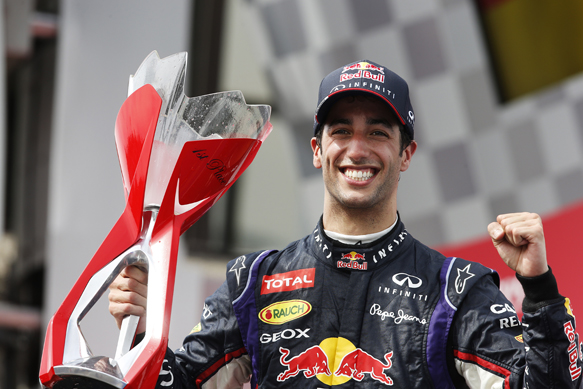 But for much of the race, it was Rosberg – who started the race in pole position – that led, with teammate and title rival Hamilton just a second behind the German in second place.
And for a brief period Hamilton managed to go past Rosberg for the lead, but the 2008 champion was forced to retire in lap 48 due to brake failure, allowing Rosberg to retake the lead.
Hamilton's retirement also allowed Sergio Perez to take second spot, but with Perez and Rosberg dealing with faulty brakes for much of the second half of the 70-lap race, Ricciardo eventually overtook Perez with five laps to go.
The RedBull driver then went past Rosberg in lap 68 to tale the lead before being led by the safety car soon after till the chequered flag was waved.
Ricciardo's RedBull teammate and reigning champion Sebastien Vettel also went past Perez, before the safety car came out in lap 69, to finish third and claim just a second podium finish this season.
McLaren's Jenson Button finished fourth after benefitting from a crash in the penultimate lap involving Perez and Felipe Massa, when the latter tried to take fourth spot.
The crash was the second in the race, after Max Chilton ran into his Marussia teammate Jules Bianchi in the opening lap.
Romain Grosjean, Pastor Maldonado and Kamui Kobayashi also retired from the race in later laps due to mechanical troubles.
Despite all, Rosberg maintained his leadership of the drivers' championship with 140 points, opening a 22-point gap on Hamilton in second place while Ricciardo is third with 79 points and now holds a 10-point lead over Fernando Alonso who finished sixth in Montreal.