Ivorian striker Didier Drogba completed a return to Stamford Bridge for a second spell at Chelsea, in a one-year deal that exuded reasons leaning more towards the emotional than the sporting.
At 36, Drogba is at the twilight of his football career as virtually any other striker his age would. But as we have witnessed elsewhere before, his second spell at Chelsea could yet prove productive on a sporting level despite the likelihood of being behind Diego Costa and Fernando Torres in the pecking order.
A club of Chelsea's calibre always require squad players to step up when called upon at various stages of what could be a season 50 or more matches are played and Drogba fits the role of a squad player very well for Chelsea.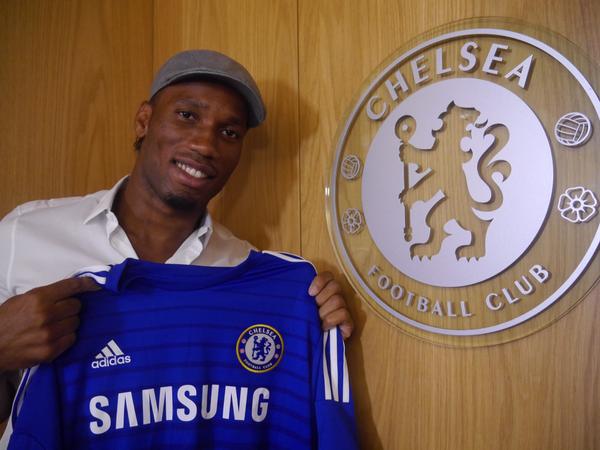 More so because he knows his way around the club on and off the pitch and also because he had a knack for coming up with the goods when crucially needed in the Cup competitions.
During the peak of his career, Drogba scored 100 goals and provided 54 more in 226 league appearances for Chelsea, yet he was remembered more for his exploits for the Blues in Cup competitions.
Having helped Chelsea win two Premier League titles in his first two seasons after joining from Olympique Marseille for a then club record fee of £24m, Drogba scored both goals as Chelsea won 2-1 in the League Cup final against Arsenal in 2007.
He would also score the winner in the FA Cup final against Manchester United two months after his heroics in the League Cup to cap arguably his finest season for the Blues.
Before then, he had scored in extra-time to give Chelsea a 2-1 lead against Liverpool in the final of the 2005 League Cup, with the pulsating encounter eventually ending 3-2 Chelsea's favour.
The striker score both goals as Chelsea beat Arsenal 2-1 in the Community Shield later that year, as well as a goal in the final of the 2008 League Cup, making him the first player to score in three League Cup finals and in three successive domestic Cup finals.
Drogba also scored a crucial equaliser as Chelsea came from a 25th-second Louis Saha goal down to win the 2009 FA Cup final against Everton, having scored the winning goal in the 2-1 win against arch-rivals Arsenal earlier in the semi-final.
The imposing striker then helped Chelsea defend the FA Cup title by scoring the only goal of the 2010 final against Portsmouth with a 58th minute freekick, minutes after Kevin-Prince Boateng had missed a penalty for Portsmouth.
His most memorable season was aptly the end of his first spell at Chelsea, scoring the winning goal in the 2012 FA Cup final against Liverpool and become the first ever player to score in four different FA Cup finals.
A week later, Drogba followed that milestone by scoring an 89th minute equaliser in the UEFA Champions League final against Bayern Munich to force extra-time in a match played at Bayern's Allianz Arena.
The extra 30 minutes produced no further goals and against all odds, Chelsea lifted its first ever Champions League title that night after penalties with Drogba scoring the winning spot-kick.
Two years and season long stints each at China and Galatasaray after, Drogba's one year at Chelsea could yet see the Ivorian help grind out results for the club and even help new signing Diego Costa settle in as both play similarly as alluded in his words after signing.
"My desire to win is still the same and I look forward to the opportunity to help this team. I am excited for this next chapter of my career."